Knowing when to replace your pool's plumbing system can be challenging to ascertain. Rely on the experts at Gus Pools to offer advice on this process and you are guaranteed to extend the usage life of your pool.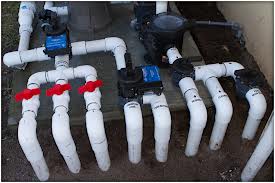 Our expert technicians will conduct leak detection tests to determine the severity of a problem and recommend the most cost effective method to resolve the identified plumbing problem. In the past 20 years, the swimming pool industry has had many advances in the product technology and effectiveness. For pools built before the mid-eighties, Gus Pools recommend that you modernize your plumbing system to extend the usage life of your pool.
As with most industries, the swimming pool business continues to innovate and build better, more efficient products. Let us help you maximize the efficiency of your pool! Our dependable staff is readily available to answer any questions you may have and walk you through the re-plumbing process.
This service is for existing customers. Call us today at (718) 746 – 5005 for a free quote!